Dr. Jennifer Silvers – the 2022 Flux winner of the Young Investigator Award! 
Please join us in congratulating our winner of the 2022 Young Investigator Award, Dr. Jennifer Silvers! This award, supported by the Kennedy Krieger Institute, recognizes Dr. Silvers' outstanding contributions to developmental cognitive neuroscience as an early career researcher. As an Associate Professor in the Psychology Department at the University of California, Los Angeles (UCLA), Dr. Silvers' work has advanced our understanding of how early experiences and social relationships shape cognitive and emotional development.
Dr. Silvers' interest in the biology of emotions dates back to her elementary school days when she did her first science project. During college at the University of Virginia, she fell in love with her neuroscience coursework and decided to pursue this passion by working at the NIH in the two years following. It was only after she began graduate school at Columbia University that she realized "if I really cared about understanding socioemotional phenomena, the most exciting way to do so was to understand how social and emotional processes get built during development." Now, as the director of the Social Affective Neuroscience and Development (SAND) Lab at UCLA, Dr. Silvers investigates how youth learn to manage their emotions, learn about their worlds and make decisions. She points out that "humans don't grow up in a vacuum, so a big part of my research focuses on how parents and friends shape brain and behavior across development."
Studies of adolescence are an important part of Dr. Silvers' research on emotional development. As she explains, "From my perspective, adolescence is a make or break time for emotion regulation development. The majority of individuals show marked improvements in emotion regulation abilities, but for a sizable minority, adolescence is a time when difficulties with emotion regulation first emerge or worsen." Her work shows that caregiving also plays a critical role in shaping adolescent emotional development. "Early caregiving sets the stage for some of the branching forks in emotion regulation development, and caregivers play a critical ongoing role in providing emotional support and scaffolding healthy emotional development during adolescence."
Dr. Silvers has had a number of impressive accomplishments in her research career. She has authored over 50 publications, successfully secured funding from multiple organizations including the NSF and NIH, and has been recognized with awards from multiple scientific societies. She shared that receiving tenure at UCLA this past year was her most proud accomplishment thus far, and "a direct reflection of the efforts of my lab members. I am so proud of the brilliance, hard work, and kindness that my trainees bring to the lab each and every day." It is clear that Dr. Silvers' appreciation and support for students extends beyond the laboratory: as a faculty in residence at UCLA, she lives in a residence hall with about 1,000 undergraduates, serving as an informal advisor for many of them.
When asked to share some advice with the trainees in our community, Dr. Silvers shared that "Developmental cognitive neuroscience research is slow and difficult but it can be incredibly rewarding" and had three suggestions for aspiring researchers: First, "Ask for advice and don't assume you need to figure everything out on your own! Talk to people who are a few steps ahead of you and ask them what decisions they made that they are most proud of and what things they wish they could have done differently. I have learned so much from observing and asking other people about how they work." Second, she emphasized the importance of being a good colleague: "Take joy in the successes of others – it makes research a whole lot more enjoyable!" And third, she suggests taking on a good balance of projects, "such that some are safer/lower risk (analyzing existing or public data behavioral studies in young adults) and some that are more high-risk/high reward (expensive and complicated from-scratch fMRI studies in youth)."
Dr. Silvers, a parent herself who is often observing development unfold in her own children, also shared some advice for caregivers to promote healthy emotional development. "First, take your own emotional wellbeing seriously. Youth are acutely sensitive to the emotional states of the adults around them and when we can honestly model good emotional health, it goes a long way. Second, keep showing up for youth in adolescence and young adulthood. Early childhood matters hugely for setting the stage for healthy emotional development but it's a myth that caregivers do not matter in adolescence and beyond. Third, give youth space and opportunities to practice making decisions and regulating their emotions. This means allowing them to sometimes make mistakes and to learn from those mistakes." Outside of her time spent researching and teaching, Dr. Silvers enjoys spending time with her own family, going to the beach, hiking, and exploring different neighborhoods in Los Angeles.
Looking toward the future for developmental neuroscience research, Dr. Silvers reflected on both large and small scale studies conducted both in the lab and "out in the world" as well as the importance of sharing data and code. She suggests that "one important direction involves asking more frequently what the right approach is for a given topic and considering whether it is most beneficial to do a smaller "in house" behavioral or neuroimaging study versus using existing publicly available data like ABCD." She explains that she sees both approaches as "incredibly valuable" and notez that "the savvier we can get about matching tools and approaches to the questions we are asking, the better." She also reflected on the importance of addressing the social and cultural contexts that shape neurodevelopment: "As someone who studies the influence of social relationships on brain development, I think this is critical. This also means considering how to study more diverse and representative samples of youth so as to accurately define what aspects of neurodevelopment are context-dependent and independent."
This interview was conducted by Arielle Keller and the Flux Communication Committee team.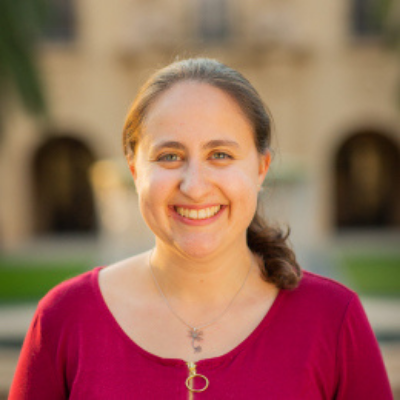 Arielle S Keller, PhD
Neuroengineering and Medicine Post-Doctoral Fellow Department of Psychiatry, University of Pennsylvania