Flux 2020 Virtual Engagement
Virtual Conferences cannot replace the engagement of an in-person conference, however, the Flux Committee and Board want to ensure you get the MOST out of the Flux Virtual Congress this year.  Below are a number of ways, in addition to the virtual platform, where you can engage with other attendees.
Throughout the Congress
Twitter
Connect with others and discuss the Congress @fluxDCN with #FluxVirtual
Slack
We will be providing a public slack workspace for those registered for the Flux Congress to connect in new ways and discuss topics.  Stay tuned for the link.
Gather.Town – https://gather.town/yauB5yuJWBEVHBgZ/Flux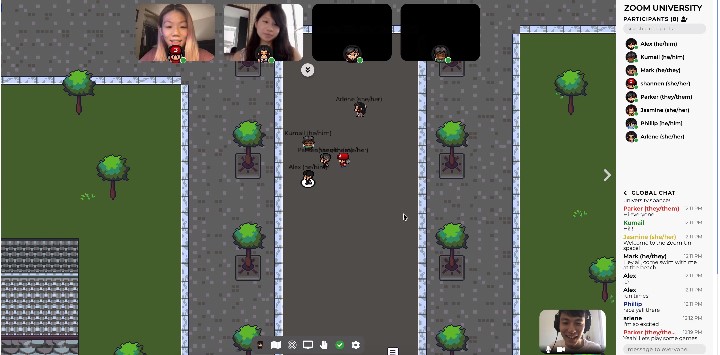 Gather.town is a video-calling experience designed to help people gather online. Create your avatar, use a video-calling interface and wander around a 2D style space with other attendees at Flux. As you move around the map with your keyboard arrows, the webcam video and microphone audio of the other people in the room fades based on your distance to them.
This space will be set up for use throughout the conference but with larger capacity during the poster session times and social engagement nights.
Mentor/Mentee Matching
The Flux Trainee Committee is excited to put together a mentorship match-up program for the Flux Congress 2020! We are partnering trainees who are looking for guidance in professional development or in their research with mentors who have the desired experience. We will send out a survey soliciting sign-ups to be both mentors and mentees prior to the conference, if you register before Sept 2, 2020.  We are asking that mentors and mentees schedule a 30 min one-on-one session right before, during, or soon after the Flux Congress to connect. Please note: we will do our best to match mentors/mentees, but whether we are able to provide matches for everyone will depend on the number of mentors/mentees who sign up to participate.
Invites from Poster Presenters
New this year, we will be asking poster presenters to invite specific conference attendees to visit their posters during their designated session.  This will take place through the virtual conference platform when you get access on Sept 8th.  For poster presenters — this is a great opportunity to let other researchers know about your relevant work and encourage them to provide feedback. For conference attendees — please be on the lookout for poster invitations and do your best to stop by and connect with the presenters. They value your thoughts!
Social Night –

Online Bingo & Games Night

September 11, 2020, 3:30pm – 5:30pm PST 

Through gather.town, there will be games tables available for attendees to play multiplayer online games with a video link.  This is a way to connect and socialize with others during the conference and especially for Games Night on Friday, September 11th.   A live Virtual Bingo game will also be playing that night only – with Beatriz Luna and Deanna Barch as your callers.  Each attendee will receive a link to download their virtual bingo card to play, if they wish to participate.  Games have limited attendance and prizes will be awarded! 
Skills Exchange Sessions –

For Trainees
The Skills Exchange Sessions are workshops created by and for Flux Trainees. During the 2020 online meeting, we will host four sessions that are described below. Note that sessions will take place during the first 45 minutes of one of the poster sessions. During the sessions, Flux trainees will discuss a certain topic that is facilitated by one or more fellow trainees. Prior to the conference, we will send out a survey asking you to RSVP to the sessions you think you might attend.
 Skills Exchange 1: Public Outreach and Citizen Science
Facilitator: Suzanne van de Groep, PhD Student, EUR
Time: Thursday, Sept. 10 from 1:30pm – 2:15pm PDT (concurrent with poster session 1)
What is the best way to inform people about our research? And how can we improve our research by involving children, adolescents, teachers, and parents from idea to publication? Join this session to share your tips and tricks or learn from others about what has worked for them in the past.
Skills Exchange 2: Data Visualization
Facilitators: Ilse van de Groep and Lina van Drunen, PhD Students, EUR
Time: Thursday, Sept. 10 from 1:30pm – 2:15pm PDT (concurrent with poster session 1)
What ways are there to visualize your data? How can you change figures to make them more clear and attractive for your audience? And what software is best for your purposes? Join this session to share your experiences or learn more about how to improve your data visualization skills.
Skills Exchange 3: Online Testing
Facilitator: Kate Nussenbaum, Ph.D. Student, NYU
Time: Friday, Sept. 11 from 7:00am – 7:45am PDT (concurrent with poster session 2)
What are best practices for running online studies with children and adolescents? Please join us if you have any tips or tricks to share from your experiences or if you are brand new to online testing and would like to learn more about what has worked (or not worked) for people in the past.
Skills Exchange 4: Writing Postdoc Grants
Facilitator: Ali Cohen and Rebecca Martin, Postdocs, NYU
Time: Friday, Sept. 11 from 2:00pm – 2:45pm PDT  (concurrent with poster session 2)
How is grantsmanship as a postdoc unique? In this Skills Exchange Session, we'll discuss several US-based postdoc funding mechanisms, the process of applying, and (hopefully) securing funding. We welcome international perspectives! Join the discussion to learn more or share your experiences.